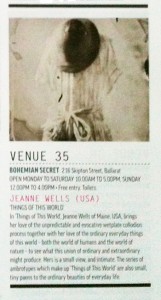 from the program. If you can't squint hard enough to read it, it says:
"In Things of This World, Jeanne Wells of Maine, USA brings her love of the unpredictable and evocative wetplate collodion process together with her love of the ordinary everyday things of this world — both the world of humans and the world of nature – to see what this union of ordinary and extraordinary might produce. Hers is a small view, and intimate. the series of ambrotypes which make up Things of This World are also small, tiny paens to the ordinary beauties of everyday life."
More information about the festival here.