On 23 February 2013 by
jeanne
With
0
Comments -
Announcements
,
exotics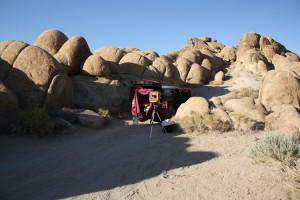 Off Movie Road in the Alabama Hills with my great Ford Flex which doubles as a wetplate darkbox.
2012 was am amazingly busy year – wonderful in every way. I spent a good portion of the winter in Virginia, where I was able to do a lot of shooting up on the Skyline Drive.  I drove across the United States with my wetplate gear and spent a week with five other women shooting big cameras in the desert.  I had another wonderful exhibition in Sweden, then came home and flew straight to New Orleans for portfolio reviews at PhotoNOLA. So many great people and images and experiences.
Getting it all written down is going to take a bit of time. . . .